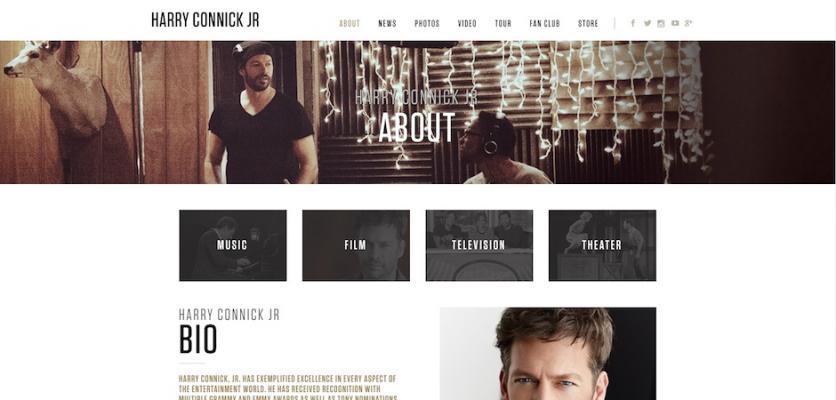 Charles River Web was approached to develop Harry's new site just a handful of weeks before his debut as a judge on the American Idol season 13 premiere, which marked our strict deadline. It was a tall order on short notice, but we stood up to the challenge and delivered strong results.
Charles River Web acted as the general contractor for this project, and in so doing brought in Metropolis Creative as our partnering design firm. We worked with Metropolis to produce a stunning design, and then got our hands dirty building the site from the ground up in a mere two and a half weeks. It was a true test of our efficiency as developers. We even finished in time to accommodate final change requests by the client. The site we delivered was beautiful and fully functional, meeting all requirements, and delivered in time for Harry's big Idol debut.
Charles River Web has since expanded the site's functionality to include a robust fan club platform and ticketing sales. Users can purchase fan club memberships and access exclusive content on the site, and the ticketing platform successfully handled sales for two tours. Harry is always releasing new material, and his website is adaptive and easily able to highlight and promote his newest venture. His website receives around 60% mobile traffic, and is an excellent example of how Charles River Web has utilized responsive design, guaranteeing fans a smooth and faultless browsing experience on any device.
Harry has a complex portfolio of properties, including his music career, American Idol, and a new daytime television show. We built the site so that it's focus can shift as warranted by changes in his career. When he released a new album we adjusted the imagery to match and highlighted the album with a splash screen. When his new show started, we changed the imagery to match his daytime television audience. When quick changes were needed, as is often the case in the entertainment industry, we stayed late and made it happen.